2021 MODERN DANCE PRIMITIVE LIGHT
Wednesday, December 15th, 7pm – Open Dress Rehearsal
Thursday, December 16th, 8pm
Friday, December 17th, 7pm & 9pm
LIVE AND IN-PERSON AT THE EMPORIUM CENTER ON GAY STREET
Celebrate the winter season with an evening of dance and live music with Circle Modern Dance. Enjoy original works from local dancers and choreographers for our 30th annual Modern Dance Primitive Light performance. After a virtual performance last year, we are excited to be able to bring dancers into a space together safely.
Thank you so, so much! We were overwhelmed by the amount of support we received for this show. We hope to bring many more winter celebrations of resilience, light, and hope to our Downtown Knoxville community.
Open Audition – 30th Anniversary Celebration
Sunday, February 23, 2020 1 PM – 3:30 PM
The Emporium Center
Free and open to the public!
Circle Modern Dance is celebrating our 30th anniversary! We're having a celebratory performance on June 26th, 2021 and we want YOU to be a part of it.
Join us for a FREE open audition in place of our classes on Sunday, February 23, 2020 from 1pm-3:30pm. No dance experience necessary
Modern Dance Primitive Light
Thursday, December 12, 2019, 8 PM
Friday, December 13, 2019, 7 PM & 9 PM
Saturday, December 14, 2019, 7 PM & 9 PM
Student/Senior: $10
General Admission: $15
Laurel Theater
1538 Laurel Ave, Knoxville, Tennessee 37916
Join Circle for a warm, cozy evening of live music and dance in the historic Laurel theater this winter. We welcome children of all ages to this family friendly show. They'll love sitting on the floor right next to the dancers! (Chairs also available if that is your thing.) Purchase tasty snacks and refreshments to benefit Circle Modern Dance, and have a chance to see the new pieces we have been working on this fall.
Songs Stuck in My Body, Sarah Chien
Friday, October 18, 2019, 7PM
$15
Emporium Center
100 S Gay St
Knoxville, TN 37902

Circle is happy to bring Brooklyn-based dancer, teacher, and producer Sarah Chien to Knoxville to perform her new multi-disciplinary work, Songs Stuck in My Body.
In this 45-min romp through dance, storytelling and song, Chien excavates the "childhood crap" rattling around in her head and her mom's midwestern basement. At once comedic and deeply personal, "Songs" sorts through the capitalist excess, gender socialization and family heritage that we accumulate on our way to making sense of who we are.
Pathways Workshop, Sarah Chien
Saturday, October 19, 2019, 10AM – 1PM
Emporium Annex
Open to the public!
"I challenge students to question their assumptions by observing habitual movement patterns and offering a different paradigm emphasizing full body awareness and moving confidently up/down/around and through a room of shifting bodies. My dance floor is a multi-dimensional space: students are asked to practice without a set front, and to learn from each other as well as me.  Classes don't necessarily culminate in a phrase, but rather progress through solo and group investigations of spirals, energy and reactivity."
– Sarah Chien, SarahChien.com
Modern Dance Primitive Light Auditions and Call for Choreographers
Sunday, August 18, 2019 1PM – 3 PM
FREE
Open auditions for our annual winter show.. It will be structured like a modern class with choreographers stepping out to observe occasionally. Choreographers may approach dancers in person after auditions or by email. Rehearsals usually start in September, and the show is December 12, 13, and 14.
Intro To Contact Improvisation Series
"Contact Improvisation is an improvised dance form based on the communication between two moving bodies that are in physical contact and their combined relationship to the physical laws that govern their motion—gravity, momentum, inertia."
  – Steve Paxton, creator of Contact Improvisation
Mondays at 6PM
July 29, August 5, 12, & 19, 2019
Instructors Amelia Breed & Jeny Jones
$15 drop-in
$45 for the series
Click here for a sample video!
Sunday, July 7th, 1PM – 3 PM
FREE
New in town? New to Circle? New to dance? Come enjoy a sampling of our dance classes in the Emporium Annex space. Come for the free class, stay for the free snacks, and return with an exclusive deal on a 2019 semi-annual class pass.
Keep an eye out for the event on our Facebook! 
Master Class – Modern Dance & Nontraditional Partnering
Circle Modern Dance is proud to welcome back Intersect Dance Theatre for another Master Class in Modern Dance & Nontraditional Partnering. Similar to the class in 2018, this workshop will focus on building kinesthetic awareness in dancers to improve physical "listening", creating a better partnership and unified ensemble. 
Intersect Dance Theatre will lead us in a structured warm-up, strength-building exercises, improvisation, and nontraditional partnering techniques.
Class is $10 (+ fees) in advance or $15 at the event.
No experience required, ages 10 and up welcome.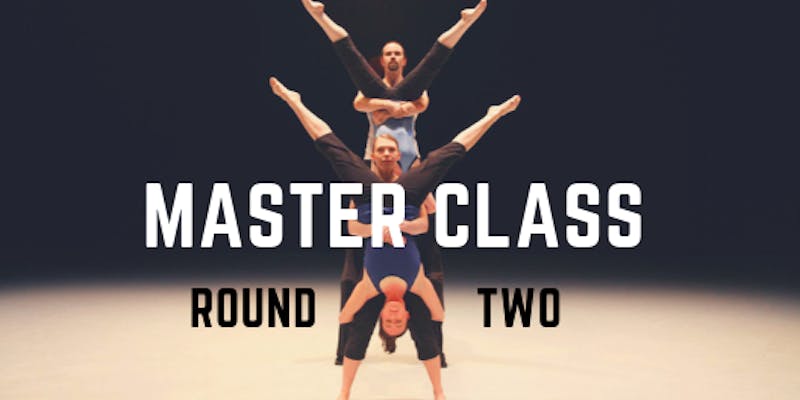 Saturday, June 8
Sunday, June 9
Circle is back downtown this year! Take a break from the heat this June to get inspired by the art in the gallery space, grab a beverage from the bar, and enjoy an evening of contemporary dance and modern performance art. Circle Modern Dance presents fresh concepts from new local choreographers and guest artists Momentum Dance Labs and Riversong Dance Studio. Our next summer show won't be until 2021, so you won't want to miss this one!
Circle Modern Dance at Rossini Festival 2019
This year's Rossini Festival is on April 13, 2019. This outdoor all-day festival features numerous regional and local performing arts groups, artisans, and street food vendors. Circle Modern Dance will be performing from 6:30 PM to 7:15 PM at the Market Square Stage. Expect to enjoy our signature group improvisations and preview choreography that will be in our upcoming summer show.
All ages! ~ Free admission! ~ A Knoxville spring tradition!
Food and conversation. Free class sampling. Opportunity to purchase annual and semi-annual passes. 
January 6, 2019 at 1:00 PM 
Modern Dance Primitive Light
Join us for our annual winter solstice celebration. We are thrilled to return to the beautiful Laurel Theater for what will be our 27th MDPL. This year, you'll see work by CMD company members and artists alongside the work of many brilliant guest artists. And all of it is set to Live Music, by our MDPL 2018 House Band. It's a great show, we can't wait for you to see it!
December 13, 2018 at 8pm
December 14, 2018 at 7 and 9pm
December 15, 2018 at 7 and 9pm
Holidays and Special Events
Sunday, April 17, 2022 - Easter Sunday - No Class
Saturday, April 30, 2022 - Rossini Festival
Saturday, June 25, 2022 - 30th Anniversary Show at the Bijou Theatre